MASTERGRAIN – REDEFINING THE ENTRY DOOR
STACK & SLIDE PERFECTLY
The Stackable patio door offers a larger opening than a classic patio door, allowing easy access to one's garden or patio as well as a gorgeous view of both. The wide opening may even allow you to easily bring patio furniture in and out of the house as you please.
Up to 3 panels can be stacked on each side, without taking up additional wall space in your room. Meaning you can have up to two openings into your patio area.
The door can be up to 23 ft wide and 8 ft tall and thus can fit potentially any entryway.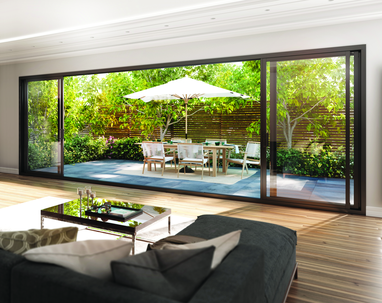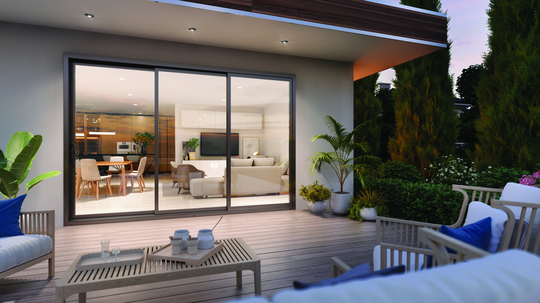 FEATURES
High performance, meeting and exceeding all testing requirements.
Smooth operation and durable.
Stacking of the panels gives a much larger unobstructed view.
Multiple colour choices available.
A beautiful alternative to every extensive bifold doors.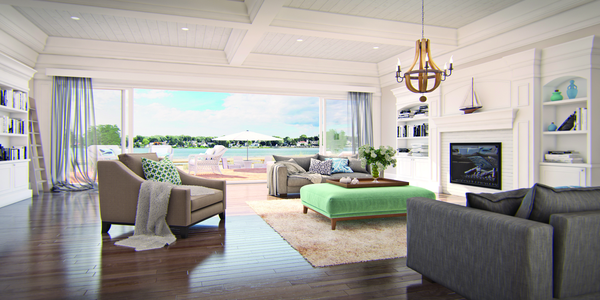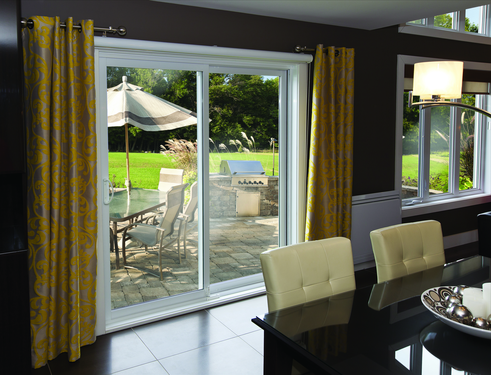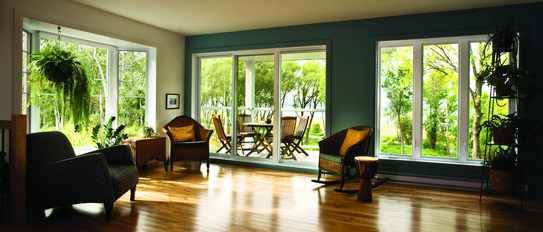 BUILT TO LAST LONGEVITY
Multi-chamber PVC frame, multi-chamber PVC sash.
Multiple weatherstripping to eliminate air infiltration.
Steel reinforcement in the most heavily used parts.
One-point mortise lock, hidden sash stoppers for aesthetic appeal.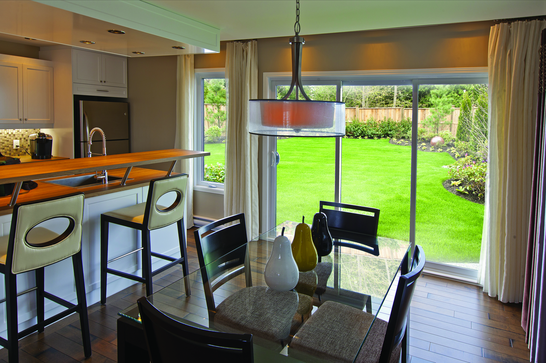 ENERGY EFFICIENCY
Double glazing, non-conductive spacer, low-E coating and argon gas maximize the energy rating.
The design allows for either a 1 inch thick double or triple glazing and the profile designs significantly reduce the risk of condensation.
Mini-blinds between the glass is available on 5′, 6′, 9′ and 12′ wide doors.
Decorative Grills are also available in a few configurations.
THE EASIEST-OPENING DOOR IN ITS CATEGORY
Mastergrain doors are designed so the sashes slide quietly, smoothly and effortlessly. The raised rails protect the wheels from damage or jamming caused by debris. The wheels are made in ultra-durable nylon, which leave no marks on the rail and provide smooth operation.
TESTING: The door withstood 119,000 cycles without failure – equivalent to 30 years of constant use.
ADDITIONAL SECURITY
Optional two-point mortise lock & foot lock.
Robust screens are spring loaded and will not skip or jump off the track.
Please fill in the form below and one of our team members will contact you to discuss your options.
Home Decor Window & Door Centre Inc. is committed to respecting the privacy of individuals and recognizes a need for the appropriate management and protection of any personal information that you agree to provide to us. We will not share your information with any third party outside of our organization, other than as necessary to fulfill your request.